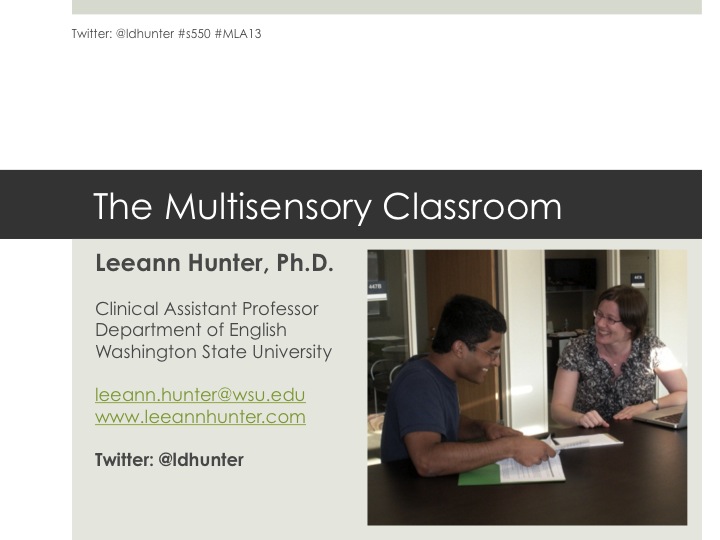 I am here to talk about the Learner's Body in the face-to-face classroom. Now, we have a lot of smart people developing creative online and hybrid pedagogies in ways that surpass anything we can accomplish in the classroom. But that's only if we don't change the classroom in this post-digital or new digital era. What we need is a new pedagogy of f2f.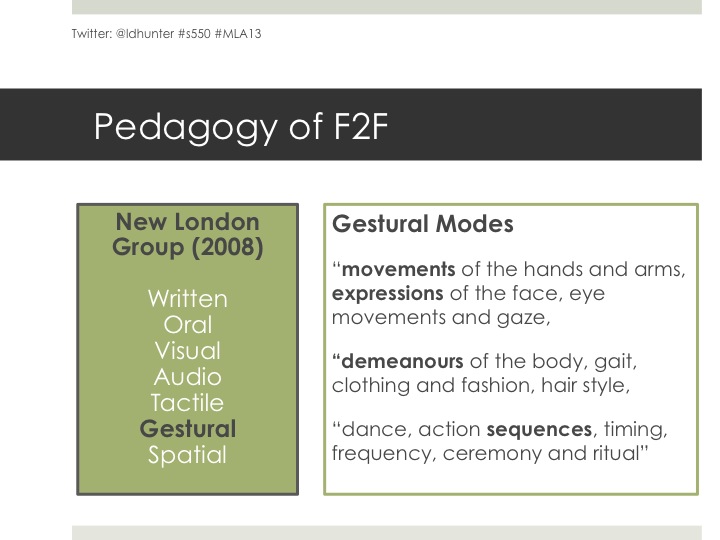 One of the ways I've begun to think about f2f pedagogy is via interactive communication. I describe the face-to-face classroom as multisensory, because it's one of the few features that are difficult to replicate online. The New London Group—comprised of 10 scholars–devised a set of five primary forms of communication in the mid 1990s that were already considering embodied space as a form of communication. They introduced the categories of Written, Visual, Audio, Gestural, and Spatial modes of communication. In 2008, two members of the group revised these categories to also include oral and tactile modes. What I want to focus on here today are gestural modes of communication, which they define not just as movements or expressions, but also demeanours and sequences.
My Background as a Coda (Child of Deaf Adults)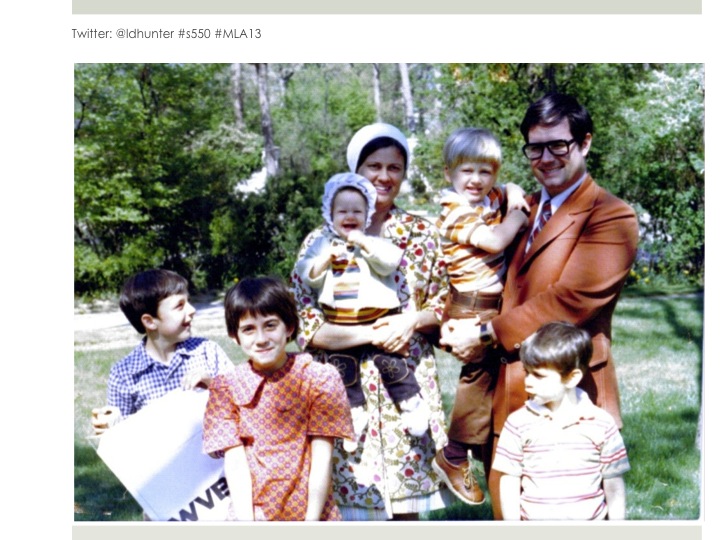 My purpose for focusing on gestural modes / nonverbal communication has to do with my personal history. I come out professionally today as a CODA: a Child of Deaf Adults. With 6 hearing children and 2 deaf parents, facial expressions and body language were our primary mode of communication prior to learning American Sign Language and English. For better or for worse, lighting, movement, tone, gesture, and space were my primary tools for communication.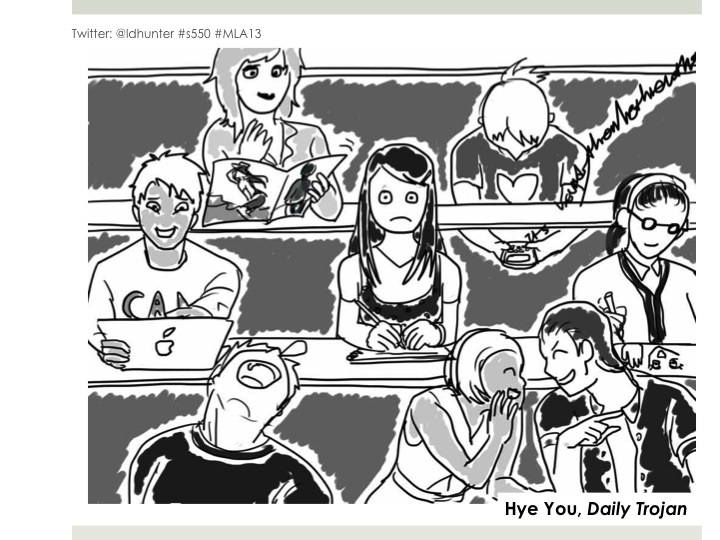 Face to face? I had to be face to face more than I ever wanted to be. As soon as I could disappear into a virtual body, I did. If I could order a pizza, shop for clothes, and schedule my haircut without ever interacting with a single human being, those were the companies that earned my business.
Face to face? We get bad breath, smelly underarms. Temperatures to rooms we can't control. Desks that cause distraction and discomfort. Difficulty seeing and hearing the speaker, especially when the lighting is bad, the air conditioner is too loud, and the person sitting nearby is watching LOL videos on Facebook.
In short, the physical classroom setting, for the easily distracted (or highly sensitive) student, can be nothing short of a nightmare.
(How I went from a silent, nonverbal child of deaf adults to become an English professor is a story for another day.)
Face-to-face pedagogy in a post-digital era
I fast-forward to the more recent present when my parents came to visit my classroom at Georgia Tech in spring 2011. I asked my students to remediate their group project into a nonverbal and deaf-friendly format. And I thought they were excellent. They put together fully captioned slide shows, performed mini action sequences, and even learned a few words in sign language.
To my surprise, my dad was utterly unimpressed. Indeed, my dad ended up giving ME a lesson in what nonverbal communication means. It does not include signed English, it does not include captions on a screen, it does not include visual aids. Rather, it is the story we tell with our bodies.
And my dad is a master. Prompted by my father's disappointment in my students, I invited him up to the front of the classroom to perform one of his own skits in mime. He performed the one called, "The Teacher."
"The Teacher" tells the story of a dim-witted professor leading a boring class, droning on and on about the textbook, turning around to scratch words from the textbook on the chalkboard. Every time the teacher turns his back to the class, he gets hit with a spitball. Of course, the grumpy old teacher gets mad and threatens the students with the archaic punishment of a ruler if they keep it up. Finally, he spins around just in time to catch the culprit in the act, while also taking a spitball right in the face. But no matter, he's caught the student in the act and is delighted he gets to punish the student. But, to his surprise, the student stands up to a height of 8 feet. The teacher becomes speechless, frightened, and cowardly. Apologizing profusely, he hands the ruler to the student. The teacher turns around, bends over, and awaits punishment.
The skit itself is a parody of the classroom, in which the teacher thinks he knows best, but students try in their own nonverbal ways to say that what he's doing isn't working. Students don't throw spitballs any more, and teachers don't use rulers. Instead, we have mobile devices and teachers who give dirty looks and point deductions to students looking at their personal screens.
But why shouldn't the student "play" on facebook or "play" with spitballs? If nothing happens when we ask students to put away their screens, we are ignoring the embodied interface of the classroom, the multisensory affordances of gathering in a room together.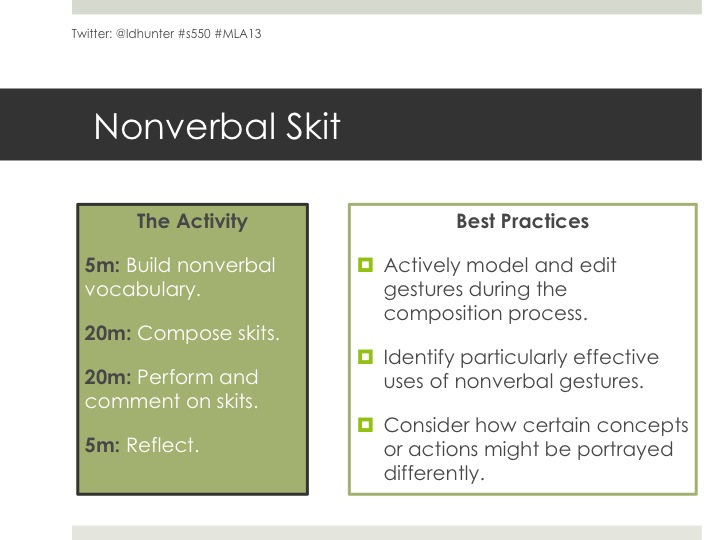 I have since performed the skit for my own students as a way of teaching them nonverbal gestures and the language of space BEFORE I ask them to perform. I ask students to create and perform their skits based on my mini directions, and I do it in the space of one class period to reduce the stakes of the assignment and induce spontaneity. I also ask students to comment on well-played gestures or to replay a concept with different gestures.
While the skits themselves are priceless journeys into exploring spatial and gestural codes, it is what happens after the skits that surprises me. After spending 20 minutes decoding nonverbal skits with their eyes, a small transformation has occurred. I walk to the front of the classroom and see they are all sitting with their laptops open, as usual, but they're not looking at the laptop screen, they're not looking off into space, they're looking straight at ME. All of their eyes are on me. The attention of their eyes has been recalibrated and retrained to look at me rather than just listen to me. Their eyes respond to me as an embodied classroom interface.
Outcomes
On the surface, the nonverbal skits seem silly. What kind of academic development occurs in a room full of adults goofing around? But I'd like to demonstrate a small series of the payoffs.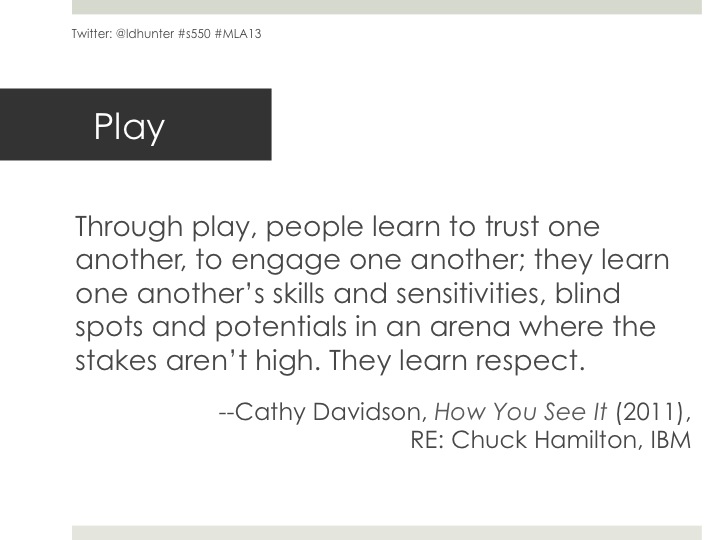 In Cathy Davidson's discussion of the future workplace, she focuses on the changing needs of the 21st century concept of work—which is no longer a place, but rather a mode of thinking. Consequently, the informal free time we spend with colleagues (or classmates) is lost. Davidson points to IBM's Chuck Hamilton's belief that "playfulness is part of creative, innovative, collaborative, productive work." He creates a space in Second Life for his colleagues to informally and personally interact with one another.
If play is so valuable, why do we leave it to chance? Why do we leave it up to students and workers to decide what constitutes play in a face to face setting? With nonverbal skits, students are playing together in a planned interface.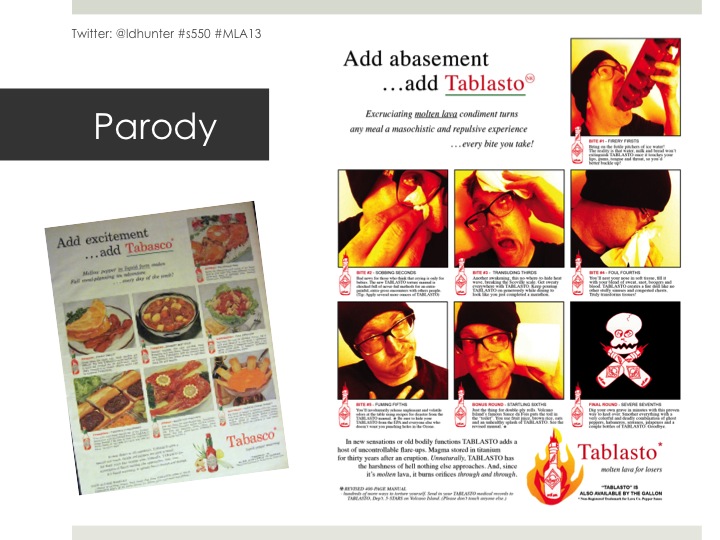 Many of us ask students in the composition classroom to perform rhetorical analysis of an advertisement. I also ask students to re-create the advertisement in terms of their lived and embodied reality of a product. A student creates a parody of an old Tabasco ad from 1959. The student dramatizes the physical impact of Tabasco when it is consumed with the frequency the ad encourages.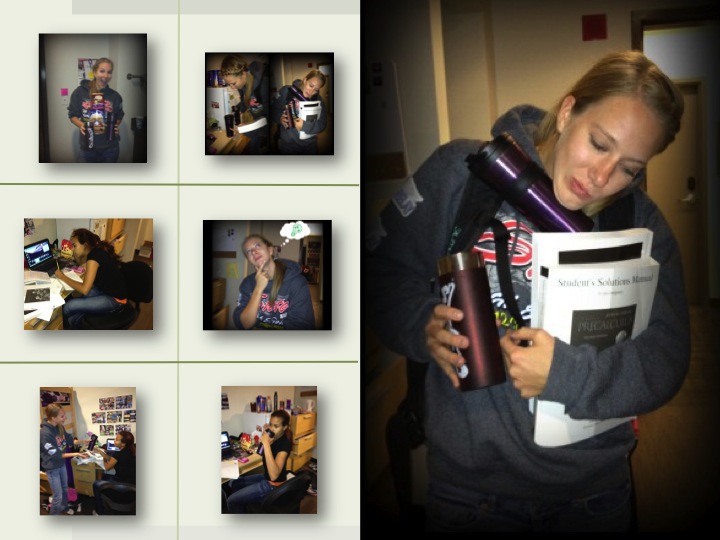 Many of us ask students to reflect on their identities as X. To identify themselves as consumers, I ask them to conduct experiments with photo documentaries. This student documents the excess of owning TWO coffee mugs. In composing her essay, she physically enacts lessons in redundancy, both in objects and in rhetoric. If a second coffee mug does not add anything to her life except the burden of more weight (or more text), then it does more harm than good.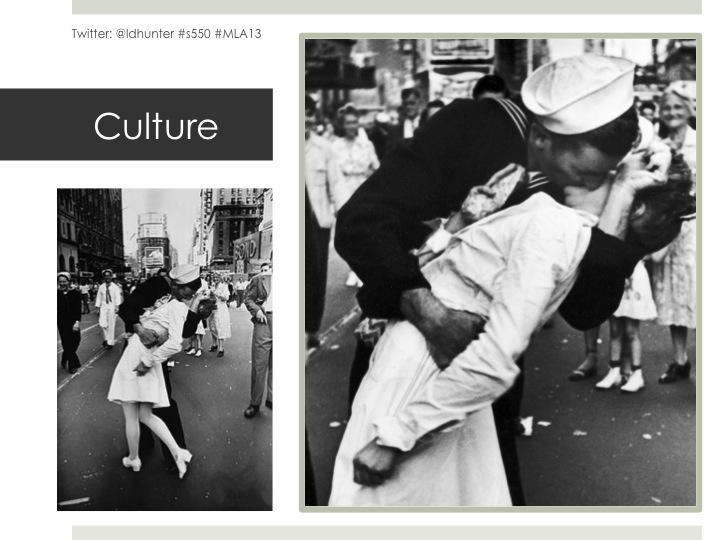 [Omitted from Live Presentation]
A student once presented this famous image[1] to my class as an object of study for visual rhetoric. The student pointed out the romance depicted in the setting, the embrace, the onlookers, the contrast. The student saw what others had seen for decades. But what he and others couldn't see were the gestures. So we put ourselves in the position of the woman: her face squished, her arm limp—not in a passion, but in de-attachment. And then we become the sailor: the man, with his left arm locking the woman into his embrace, locking her head into a forceful kiss. Not so romantic. Only in the last year have we seen accounts that critique this once-acclaimed romantic photograph.[2]
We communicate relationships of power, aggression, insult, and fear via nonverbal gestures. In embodying the gestures we see in the media, we're practicing empathy. We're reading body language in a way that moves us to identify with others, with people who seem so different from ourselves.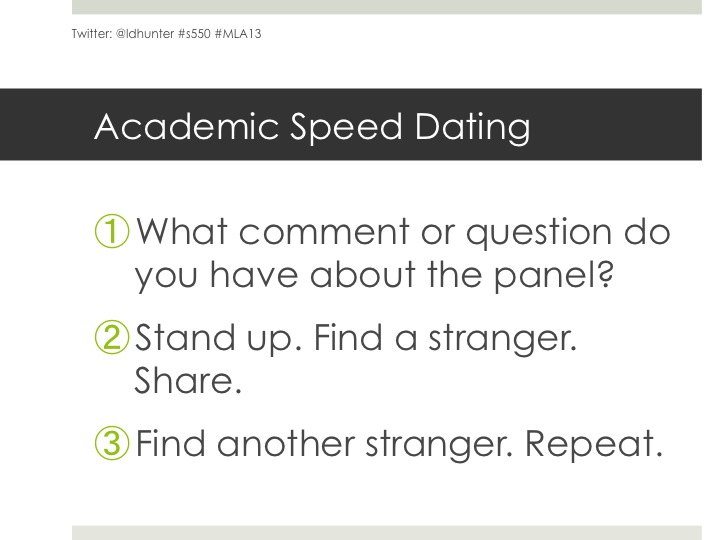 With everything shocking in this world available on YouTube, it's not enough to do these lessons via video messaging. What happens in the real life of the student? In the embodied life? In the live-stage life?
Consider how we are sitting. Face forward. Bent in the shape of a chair. Our main physical interaction is the traditional one from speaker to audience. So why are they even sitting here together when we could be home on our computers?
Let's take a moment to reflect on all of the talks in this panel with a small interactive activity. Academic Speed Dating.
---
[2] On September 30, 2012, the anonymous feminist blogger named Leopard writes "The Kissing Sailor, or 'The Selective Blindness of Rape Culture'"—and raises the support and fury of many.